Submissions
Naval STEM will only accept entries submitted by July 30, 2021 at 11:59 p.m. ET.
---
This essay contest is open to legal residents of the United States (U.S.) who are registered students in grades 9 – 12 and attending public, private, or home school in the U.S. (including U.S. territories or possessions and schools operated by the U.S. or sanctioned by the U.S. (e.g., Department of State, Department of Defense) for the children of American personnel overseas).
12th grade students who graduate in Spring 2021 are eligible to apply
Fall 2021 rising 9th graders are not eligible to apply
---
A parent or adult caregiver must submit entries from students under the age of 18.
---
Individual students may only submit one essay.
---
By submitting an essay to this contest, the student or their parents/adult caregivers agreed to give Naval STEM permission to post the essays in their entirety or as excerpts on Naval STEM websites along with the authors' name, grade, school, city, and state. Naval STEM may contact select winners or winners' parent/adult caregiver to provide a photograph of the student to post on the Naval STEM website along with the winning essay or an excerpt from the winning essay.
Essays
Students must submit their own original work. Judges will disqualify entries containing plagiarized work.
---
Students must write their essays in English.
---
Judges will disqualify essays that do not meet the 500-word minimum or that exceed the 1,500-word maximum length. You are not required to submit references or a bibliography.
---
Students should not include their name, contact information, or other personally identifying information (school name, city, state, etc.) in the essay. Essay contest organizers will separate the contact information provided on the registration form from the essay prior to scoring the essay.
---
Students should not include links to websites, URLs, images, or attachments in the body of the essay. Students should write their essay in plain text only.
Judging
Essay judging criteria:
Originality and innovation of the ideas presented. (50%)
Inclusion of information learned about Naval STEM research and people. (40%)
Quality of the essay (concise expression of ideas with appropriate grammar). (10%)
Spread the Word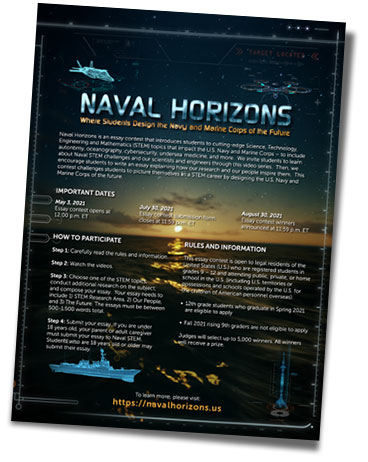 Naval Horizons Flyer (PDF) (1p, 5 MB, About PDF)